Here are the top-5 Bitcoin Mining Pools
June 4, 2021 - Expert Commentary, How-To Articles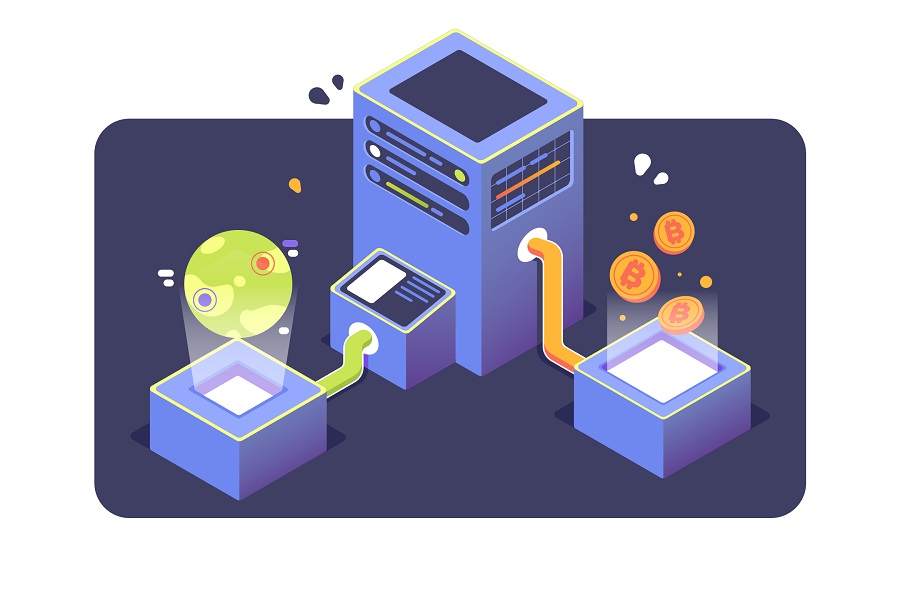 In any industry, some entities stand out.
Yes, even in Bitcoin mining. This may sound ironic because the Bitcoin decentralization model seems to discourage such accumulation of power. Luckily, the Bitcoin mining landscape is so deep that no single miner can even come close to controlling 50 percent of the network.
Mining pools play a vital role in Bitcoin mining. Investors pool their money together like people in a carpool. The reason why it is necessary is that Bitcoin mining is intensive and requires special conditions.
Certain investors don't want to handle the logistics but have a share of the profits. Mining pools sell shares in their hash rate like a company would to shareholders. This model has facilitated some huge mining pools that have a significant presence in Bitcoin mining.
The importance of these mining pools became apparent when the ten largest pools signaled their support for Taproot. This Bitcoin upgrade will have a positive effect on the privacy and scalability of the blockchain.
Notably, most of these mining pools are in China. This country accounts for more than 70 percent of Bitcoin mining worldwide. In recent months, this share is gradually reducing as miners in other continents, especially in North America.
Here are the top five Bitcoin mining pools:

F2pool
F2Pool is one of the largest Bitcoin mining pools in the world. It mines approximately 19 percent of all blocks. Such is the scale of their operation.
The pool was founded in 2013 in China and has since grown to its present stature. F2 Pool takes a 2.5 percent fee, which is a bit on the high side.
Their mining activity primarily focuses on Bitcoin though the pool also mines Litecoin, ETH, and a few other coins. They have a daily automatic payout with a minimum withdrawal threshold.
F2Pool has a solid footing in the Chinese market but also targets international investors. Accordingly, they have an English interface with a simple layout.
Antpool
No surprise here: Antpool is yet another China-based miner. Equipment manufacturing powerhouse, Bitmain, owns the enterprise. Antpool is responsible for about 11 to 14 percent of all blocks.
Bitmain is the premier ASIC rig manufacturer in the world. The company has a solid reputation for developing rigs that offer a competitive advantage.
Advanced Mining sources its mining equipment from Bitmain because of its unparalleled penchant for quality. The mining pool allows multiple earning modes and remains popular with users.
Accordingly, Antpool consistently ranks in the list of top mining pools. Their present hash rate places them firmly among leading mining pools.
Investors can get daily payments if the amount is more than 0.001 Bitcoin. They have robust security options with two-factor authentication, email alerts, and wallet locks.
ViaBTC
ViaBTC started in 2016 but snowballed to compete favorably with established mining pools. It targets Chinese miners and mines over 10 percent of all blocks. The operation focuses on Bitcoin, Litecoin, Ethereum, and Dash.
ViaBTC also has multiple earning modes with a relatively steady payout rate and transparency. Their provision of real-time and detailed statistics of the pool and miners provides insight into the operation in ways most other miners don't.
Given their relatively late entry into the fold, their presence among elite mining pools is truly impressive. ViaBTC will continue to be a significant entity in Bitcoin mining for the foreseeable future.
Poolin
Poolin is one of the largest miners in the world. It mines about from China but has a website in English for the international market.
The company has its headquarters in Hong Kong, with large data centers to conduct its operations.
Three former Bitmain employees founded the enterprise, which has since grown to become one of the largest mining pools.
Poolin mines hundreds of blocks every month, which makes it one of the largest in the world.
It charges a 2.5 percent FPPS BTC mining fee. Besides Bitcoin, the enterprise focuses on BCH, BSV, LTC, and more.
Poolin also has a wallet which is a significant part of their operation. The wallet is helpful in transferring funds such as payments in USDT. Tether is a useful stablecoin in many exchanges and transfer operations.
BTC.com
Btc.com is another large pool with an innovative reward system.
The pool doesn't have to strive for name recognition for obvious reasons. It is an established pool with a solid brand. This pool has a great chip in owning the BTC.com domain name.
Besides mining, the company also has an innovative Bitcoin wallet and its own blockchain explorer. It is not as large as some of the leading Chinese mining pools.
The company has mining servers in the EU (Germany), the United States, and China. It supports mining multiple cryptocurrencies that include Bitcoin, Ethereum, and Litecoin.
The pool uses the (Full Pay Per Share) reward system. This formula calculates a standard transaction fee in a specific timeframe, adds it to the block reward, and distributes it to miners. FPPS is lucrative, especially when transaction fees are high.
In 2021, Bitcoin block rewards and transaction fees are higher than ever, meaning that miners in this pool have enjoyed solid returns.
BTC.com has customized overclocking software for increasing revenue, Android and iOS Pool applications. Besides, their customer service is excellent.
General Pointers to Consider in A Bitcoin Mining Pool Operation
Security– Unfortunately, there are loads of Bitcoin mining scams out there. The first step has to be ensuring that you are dealing with a legitimate entity. These pools have established their reputations over the years and have market trust. Veteran pools have better credibility.
Fees– Bitcoin mining pools charge varying levels of fees. Some charge less than one percent, while others go as high as four percent. Fees have to be justifiable and match the potential reward.
Payout policy– do your due diligence to ensure that a mining pool has a payout policy you are comfortable with. Most leading mining pools have a daily payout provision, but you need a minimum amount of BTC to withdraw your BTC.
Range of coins– Bitcoin is undoubtedly the most significant coin. However, there are many other coins that one can utilize to maximize their investment potential.
Advanced Mining is Bringing Bitcoin to the Mainstream 
Most leading mining pools have something in common: They operate in China.
Some miners may want mining operations in America to have legal recourse in case of any eventuality.
Besides, miners on other continents help to decentralize Bitcoin mining, which is vital in recent years. This is not to suggest that the mining pools can collude to manipulate Bitcoin operations. However, the more decentralized the network is, the better. 
Accordingly, Advanced Mining have built data centers in Montana to utilize cheap renewable energy. Our site is next to a hydroelectric plant that produces cheap green electricity. 
Green energy mining is efficient and lucrative, a reason why Advanced Mining added another $8 million worth of the latest Antminer gear from Bitmain thanks to our direct links. Check out our Mining Shop page to learn more about Bitcoin mining