Bitcoin is Forever, Don't Fall for These Big Scams in 2021
February 25, 2021 - Crypto Scams, Expert Commentary, How-To Articles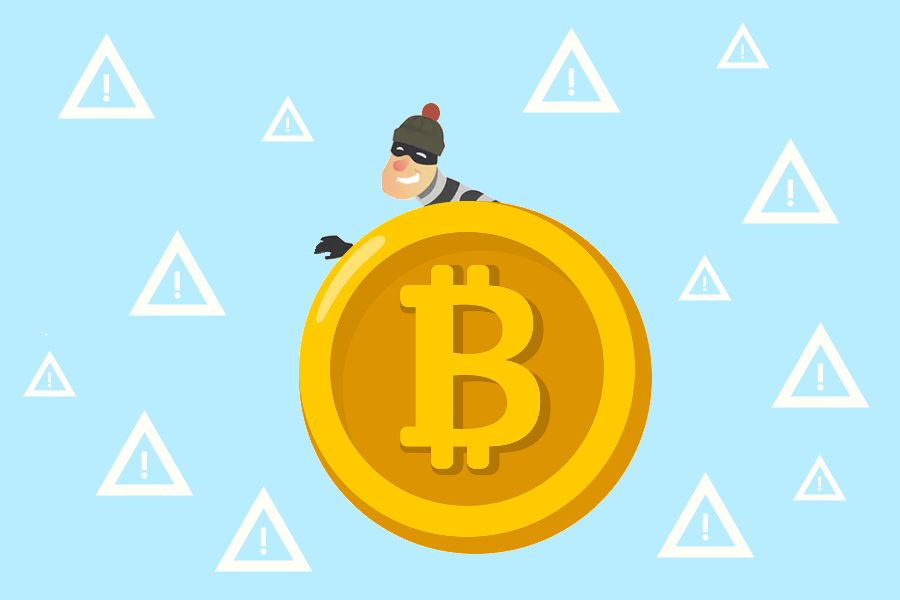 In this educational piece, we are taking the front-seat to educate our readers the importance of doing due diligence and outwit scammers.
Information is power.
In this age of disinformation and misinformation, this couldn't be truer. As famous as Bitcoin is, many people know little about the coin. It is this information gap that scammers exploit to devastating effect. Advanced Mining aims to empower users with the necessary knowledge. 
Bitcoin is one of the hottest assets in the financial market. Unfortunately, the hype means that it also attracts a range of scammers.
The virtual nature of this currency adds to the allure. New entrants to this industry are particularly susceptible to scams.
Bitcoin Is Forever
One thing that scammers will do is paint themselves as insiders who understand Bitcoin better than others. Far from it.
Bitcoin is immutable and decentralized. No one has a vantage point to control this currency. The downside to this is that Bitcoin transactions are irreversible. The mantra for this coin should be that with great power comes great responsibility.
Spending Bitcoin is not like cash. You will not get a refund or chargeback. Scammers, therefore, are attracted to the permanence of Bitcoin transactions. For holders, this permanence should make any Bitcoin owner think twice before sending their crypto.
Modern Scams: A Mix of Old and New
It is the era of tech and sophisticated marketing. Scammers also rely on some age-old mind games to get their loot.
Scams range from signature con-jobs to relatively new phenomena. There are some scams unique to the nature of this asset class. Advanced Mining informs crypto enthusiasts of the possibility of coming across them navigating the web. 
These are some Bitcoin scams to be wary of in 2021:
Chain Letter Scams
The chain letter scam is a gift that keeps giving; if you are a scammer. This scam manifests a random letter netizens receive claiming that forwarding it will unlock rewards in Bitcoin.
The catch is that you need to first deposit some money to qualify for the "profits." Unfortunately, the letters are a dead end and target people new to crypto.
These scams can even specifically target the elderly. Some Chain letters claim to unlock blessings or other incentives.
To be on the safe side, avoid chain letters or numbers completely.
Social Media Hacks
Hackers are a thorn on the side of crypto.
A few months ago, a brazen hacking operation compromised the Twitter accounts of many famous people including, Barack Obama and Elon Musk.
The hackers in this case leveraged the reputation of these personalities to promise the public of doubling their crypto then pulling off their heist.
The hacks less than a day but pulled off hundreds of thousands worth of Bitcoin. Hackers are likely to see this as a model of success. There are many ways to execute hacks using social media, and crypto enthusiasts must always be mindful of having sensitive information online.
Bitcoin Exchange Scams
Bitcoin veterans know better than to trust anyone claiming to offer exchange services. Exchange frauds are brutal because they rack up funds before ghosting depositors. Always trade on an exchange with reputable developers.
Besides, find out if the exchange you visit has met regulatory requirements to operate. Any hint of a shady operation should be a signal to flee.
An exchange should simply be a place to trade crypto. They have no role in creating crypto. Promises of grandiose returns have no substance. Be wary of such nefarious entities.
Alternatively, platforms that claim to issue new crypto can also organize fake ICOs. Many people missed the Bitcoin train and are on the lookout for the next big thing. There has been a decline in ICOs since their peak in 2017-'18. Nonetheless, they still pose a significant scam threat for new users.
Such fake ICOs cost unsuspecting investors billions. Some investors are high net-worth personalities who lose hundreds of thousands or millions in such. Scams even use fake endorsements from celebrities to develop confidence. This proliferation of these scams makes the need for due diligence extremely vital in crypto circles.
Bitcoin DeFi Rug Pulls
Decentralized finance (DeFi) is an exciting sub-sector in crypto. Developers create innovative financial applications using Ethereum smart contracts. Users can gain from these platforms by staking or purchasing tokens. DeFi is transforming traditional finance one token at a time.
Unfortunately, the hype has brought the sharks circling for blood. Many scams are masquerading as DeFi opportunities. Rug pulls happen when a company fraudulently obtains funds promising services or profits. The outcome is all too familiar. Scams targeting DeFi enthusiasts are a legitimate threat.
The fear of missing out (FOMO) that comes with any hot trend is a problem. It gives scammers an opening to exploit the blind pursuit of high profits. Always investigate a DeFi platform before trusting them with your funds.
Bitcoin Cloud Mining Scams
Bitcoin mining scams are as old as the industry itself.
It is a familiar, yet effective way of conducting scams. Cloud mining scams ask people to deposit funds for a share of their hash power, and subsequently, mining rewards. However, these promises soon turn into premium tears.
Some of these scams are sophisticated and operate as Ponzi Schemes. They take the money from new investors and use it to pay older investors. Once the platform has enough money, the website goes under, and victims are left in disarray.
Mining scams are risky because they can sink with lots of funds. Additionally, many people don't understand Bitcoin mining very well.
Stay on the Safe Side
Advanced Mining offers professional Bitcoin mining hosting services and is a reputable equipment reseller with over three year experience in crypto. Additionally, it has a direct link with Bitmain, the world's leading Bitcoin mining chipset manufacturer. Mining is a process that makes sense with a little education. Anyone who makes it deceptively simple or complicated is up to no good. 
To be on the safe side, interact with verifiable mining operations. There has to be an indication that the operation actually mines Bitcoin.
This measure means that they should have Bitcoin mining data centers. Additionally, transparency is a necessity for any mining operation. There are no half measures when it comes to guarding against scams.
Moreover, you should investigate where a Bitcoin mining company sources its equipment. Manufacturers like Bitmain offer legitimacy because of a reliable reputation. Avoid purchasing depleted equipment in the name of being pocket friendly.
Bitcoin scams are all around us. This industry is relatively young, and the public is gradually catching on. Information about scams should increase the vigilance of anyone who obtains it. That is the real value of awareness.
Advanced Mining encourages such awareness and due diligence to prevent scams. Knowing how criminals operate is half the battle in winning the security war. 
Go for Reputability; Trade and Mine with Verifiable Platforms
Scammers like dangling shiny objects in front of unsuspecting crypto enthusiasts. All that glitters is not gold.
In Bitcoin, it is always safer to go with verifiable claims. For instance, a US-based and professional Bitcoin mining equipment and hosting service provider like Advanced Mining offers physical addresses for data centers in the USA with plans of expanding to Canada. Cloud mining scams will hardly post a picture of their mining operation, let alone addresses to their data centers.
Advanced Mining also sources equipment for resale from Bitmain. Bitmain is the leading ASIC rig manufacturer in the world.
Extend this practice to all your interactions.
Legitimate Bitcoin companies can stand up to the scrutiny. Always find out the details to verify any claims. If it is too good to be true, it probably is.